Reports are used for tracking firm financials, determining compensation and overall firm tracking. Reporting in Centerbase is very powerful. Are you getting the most benefit?
When you first started using Centerbase there were a large number of reports already in the program. But, Centerbase adds new reports that may not have been added to your database. Some of the added Reports could benefit your firm:
Rates – Actual vs. Effective
Comparative Profit & Loss
Project and Subscription Fee Allocations
Tasks and Activities with Reminders
Check Reconciliation Status
Origination and Production Compensation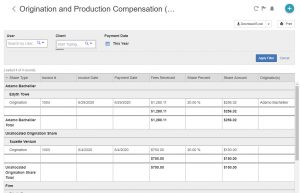 These reports can be easily added by going to Centerbase Reports. Once downloaded, they can be added to your system through System Settings – Reports Manager – Reports – Import Report.
Standard and Custom Reports may be modified for different grouping and/or columns, to meet your firm needs. You can also add your own reports.
While Centerbase allows for ad-hoc reporting by going to any list, creating a query, choosing columns and printing to the excel, if you do the same steps repeatedly, maybe you should add a report. This turns the multi-click process into simple way to get the same information. You can include filters to meet changing needs on the fly. These reports are created by going to System Settings – Reports Manager – Reports – New Report.
You can also add different groupings of reports by adding additional "tabs" within the Reports menu and you can assign security to all reports on a specific tab.
Centerbase has another option for reporting as well. You can add custom graphs to your Dashboard. While this is a little more complicated to create, visual representations can be extremely powerful in understanding your information. A graph could show time recording, billing trends or payment receipt trends. Whether by month or some other characteristic, a quick glance can help identify patterns that may be harder to spot in numerical representation.
Adding reports, whether your own creation reports or graphs, modification of existing reports or adding in system reports you are missing, allows you to make Centerbase work better for your firm. Do you need help with Reporting or understanding the reports you have? Contact Caren or Contact 3545 Consulting to meet your Centerbase reporting needs.