Zola Suite is a strong program for any firm looking for a cloud based practice management, billing and accounting and it just got better. One of the advantages of cloud based solutions is that they are easily updated by the vendor and you don't have to do anything accept learn about the new feature. In this latest update to Zola Suite there are several powerful new features.
The first one leads to the headline for this post. When a firm pays client costs on behalf of the client this is a loan to the client. The firm has spent money and the faster they get paid, the better for the firm. Sometimes the firm can arrange with the vendor that they will not pay the bill until they get paid by the client. Either way, it is important to know which vendor expenses are not yet paid by the client so that you can collect and reimburse the firm or pay the vendor.
Knowing totals has always been easy with the various reports in Zola Suite, including the WIP – AR -Trust Report. But the new Vendor Reimbursement Report shows Vendor Bill Expenses that are billable to a client and not yet paid by the client. With this you can quickly identify vendor expenses for which you have not been reimbursed and vendor expenses that should be paid because the client has paid.

While this is a great new feature, Zola Suite included several other strong features in their new release.
Do you have clients that want to see hours and rates on the invoice and others where you only show the amount? Previously in Zola Suite this required editing the template and running bills for one group of clients and then revising the layout and running another batch of bills. Zola Suite has now introduced Invoice Templates for Enterprise and Enterprise Plus users. Now you can easily design a variety of layouts and applied them at the contact or matter level.
We at 3545 Consulting are big fans of NetDocuments and the enhancements it offers above the document and email management built in to Zola Suite. Zola Suite has an excellent integration just made better. Now when generating a document via a template in Zola Suite, NetDocuments users can now quickly save the file to the corresponding Workspace.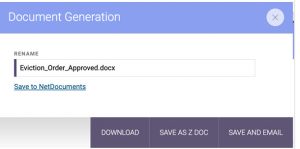 Do you use a Copitrak device? Zola Suite has now added the ability to import soft costs via Copitrak to help you get you soft costs in more quickly and easily.
Other enhancements include
A new filter on the Unbilled Activities page to allow you to filter for matters with a Total time greater than and/or less than a specified amount.
Split billing percentages can be set using up to 4 decimal places
Zola's sales tax tool now supports up to 3 decimal places
For more information on Zola Suite please contact us.
You can stay up to date on Zola Suite's feature updates at zolasuite.com/whats-new-with-zola-suite.